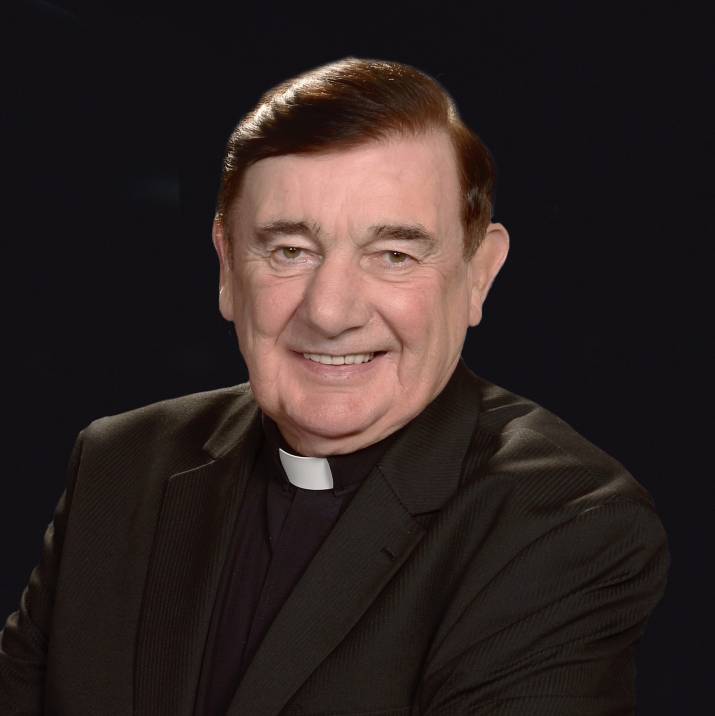 When Fr. Mike was only 21 years old, he entered seminary knowing he probably would not serve in his beloved Ireland. A group of bishops from the United States traveled there to recruit young men to relocate to the United States, where the shortage of priests was already anticipated. Bishop Tracy, the first for the Diocese of Baton Rouge, impressed Fr. Mike with his excitement and enthusiasm relative to the Vatican Council. It was his contagious spirit of excitement that hooked Fr. Mike and played a deciding factor in his coming to Louisiana.
Rev. Michael J. Moroney was ordained in June 1971. Fr. Mike's journey has taken him to various settings in South Louisiana. He began his spiritual journey as an Associate Pastor in New Roads at St. Mary's Parish. His next transfer took him to St. Charles Borromeo in Baton Rouge, where he served as Associate Pastor. At St. Isidore, which was Fr. Mike's first pastoral assignment, he spent 9 ½ wonderful years in a parish which was a delight with its "hands on" way of doing so many things. From there, he moved to Our Lady of Mercy Parish from 1987-2001. Following his service there, he moved to St. Thomas More in 2001.
Fr. Mike was assigned to St. Alphonsus Parish in 2007, where he has served for the past 16 years. In 2013, Fr. Mike was selected as one of the Top 12 Distinguished Pastors in the country by the National Catholic Educational Association, and he is the only priest in the Diocese of Baton Rouge to ever receive this honor. He has served as a priest in South Louisiana for 50 years.
Responsibilities Include:
Annulments
Ecumenical
Envir./Seasonal Decor
Eucharistic Ministers
Festival of Two Rivers
Hospital
Lectors
Liturgy Committee
Pastoral Council
Sacristans
School Board
Ushers
Vocations