Festival of Two Rivers (Parish Fair)
This popular annual event will be held on Friday, April 29 - Sunday, May 1, 2022. The three-day event is packed full of something for everyone including music, food, rides, games, and a raffle.
Food booths usually include Cajun, Italian, and American Foods. There will also be ice cold soft drinks, beer, and other adult beverages.
Don't forget to stop by our frozen foods booth and sweet shop! You can get something to munch on at the festival and purchase some delicious food to take home to your family.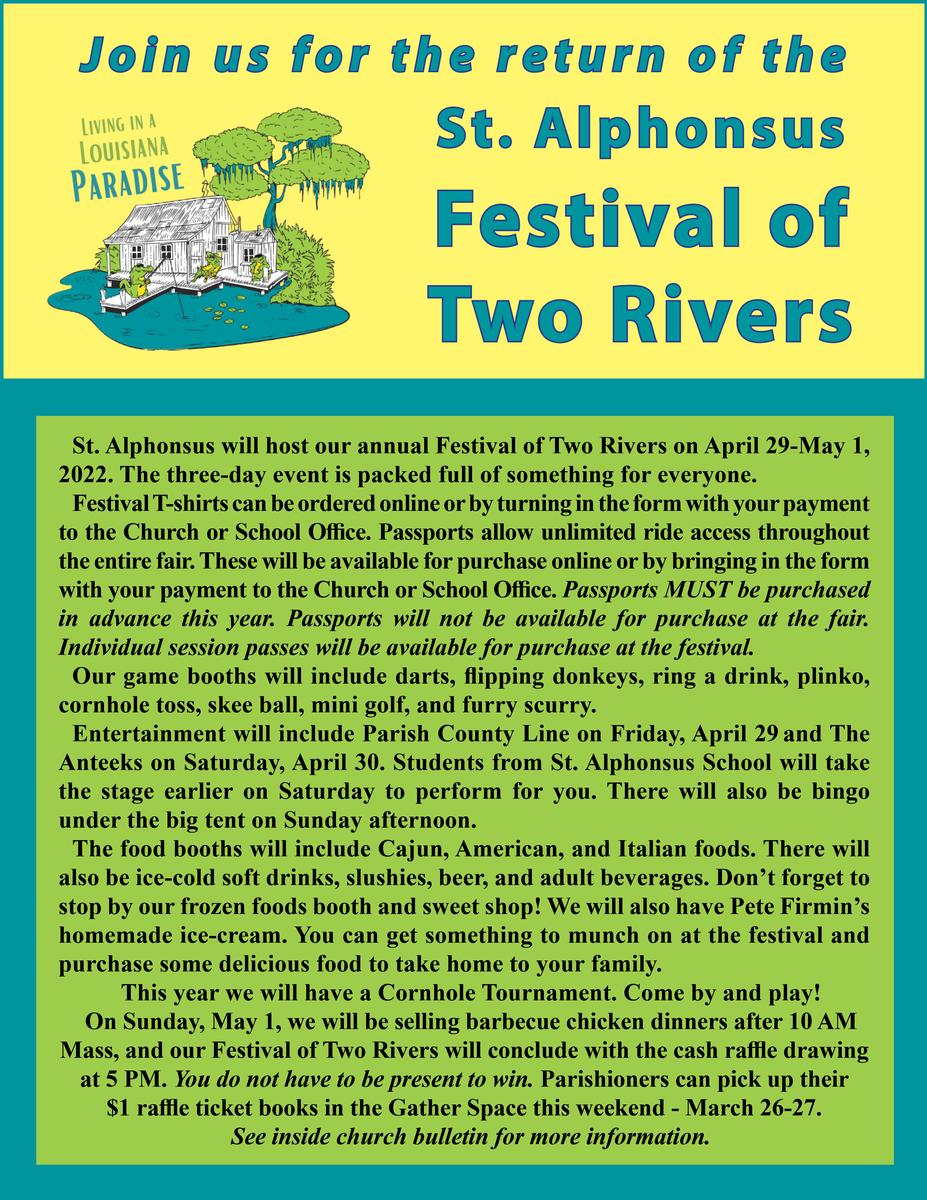 We will have live music several times over the weekend, and we will also have a Cornhole Tournament this year!
On Sunday afternoon, our festival will conclude with a cash raffle drawing. You do not have to be present to win. Parishioners can pick up their tickets in the Gather Space from Saturday, March 26 through Sunday, April 3 at 1 PM.
Sign Up to Volunteer Here
Drinks:
Friday: https://stalphonsuscatholic.flocknote.com/signup/85395
Saturday: https://stalphonsuscatholic.flocknote.com/signup/86270
Sunday: https://stalphonsuscatholic.flocknote.com/signup/86272
Games:
Friday: https://stalphonsuscatholic.flocknote.com/signup/86275
Saturday: https://stalphonsuscatholic.flocknote.com/signup/86327
Sunday: https://stalphonsuscatholic.flocknote.com/signup/86453
Plants/Crafts/Sweets:
Friday: https://stalphonsuscatholic.flocknote.com/signup/86455
Saturday: https://stalphonsuscatholic.flocknote.com/signup/86459
Sunday: https://stalphonsuscatholic.flocknote.com/signup/86458
2022 Chairmen: Kevin Tate & Jeff Ward
2022 2nd Chair: Derek and Cynthia Evans
2022 3rd Chair: Devin and Gina Knapps
Staff Liaison: Fr. Michael Moroney, 225-261-4650