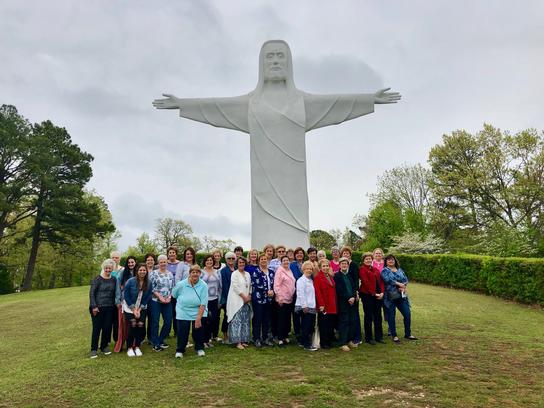 CoffeeBreak is an opportunity to meet women within our parish of different ages and interests and at the same time deepen our faith journey together. We learn so much from each other and have formed some everlasting friendships both young and old. CoffeeBreak usually meets the second Friday of each month in September-May from 9:30-11:30 AM. Social and gathering begins at 9:15 AM.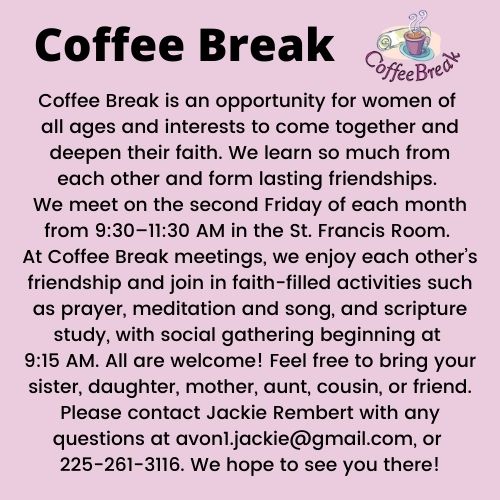 After the coffee and refreshments are served we will start with a meditation either music or pray, rosary or divine mercy chaplet. Paramount to each CoffeeBreak meeting is the bible study and there is no homework to complete. The reflection leaders introduce and guide us through each lesson that is chosen for that year. We proceed to relaxed small groups for reading and sharing.
Throughout the year we also enjoy annual Christmas and Spring luncheons, spiritual prayer sisters, Ash Wednesday Retreat, a day or overnight annual trip, in-house service project with a complimentary catered lunch. In the summer months we will gather for an entertaining movie viewing of some spiritual or uplifting content.
All are welcome! Feel free to bring your sister, daughter, mother, aunt, cousin or friend with you. We look forward to meeting you.
CoffeeBreak invites all women of the parish to join us on Friday, September 8, 2023,
in the St. Francis Room. Our Study this season is Acts - The Good News of the Holy Spirit. The study is paramount in every meeting and we have no homework.
Keep in mind that CoffeeBreak ministry is more than just a bible study. CoffeeBreak is an opportunity to meet and re-connect with women in our parish. We all are on a journey in deepening our faith, and what better way to foster that than with our sisters in Christ. We begin at 9:15 AM with a social, refreshments, and coffee. We start with prayer, a decade of the rosary, music for reflection, and a viewing of a biblical short video in preparation to our study. Our reflection leader will give us a short lecture about the particular chapter and then we break off in small groups to discuss the questions guided by our reflection leader.
We love the sisterhood that we share as we deepen our journey of faith.
Staff Liaison: Olga Johnson, 261-4644