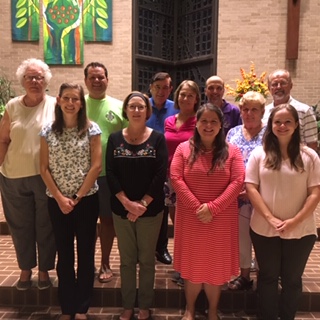 The Liturgical Committee provides leadership and guidance for the liturgical and spiritual life of the parish. It is committed to providing prayerful and well-organized liturgies. The goal of the committee is spiritual growth through the celebrations of life-giving liturgies.
Responsibilities of the Committee:
The Liturgical Planning Committee is concerned with the liturgical, sacramental and devotional life of the parish. The committee reports to the pastor.
Members of the committee constantly assess the liturgical events of parish.
The committee works in a collaborative way with other ministries in the parish and assists them with their various programs.
The committee provides training for all liturgical ministries and makes sure that all diocesan guidelines are followed.
Sub-committees:
The Liturgical Committee has the special responsibility to coordinate the themes for each season of the liturgical year, keeping in mind that there are special themes for each season. This is done primarily by sub-committees.
I. Décor: This committee seeks to create a liturgical environment that is welcoming, invites contemplation, and creates a sense of holiness. The committee strives to create a prayerful and refreshing environment.
2. Music: The committee works with the director of music in its planning for all events.
3. Devotional: This sub-committee encourages a diversity of prayer and devotional practices, including perpetual adoration, novenas, Divine Mercy, retreats, missions, etc.
Parishioners are invited to join the Liturgical Committee or help with any of the sub-committees.
Staff Liaison: Fr. Mike Moroney
Contact: Paul Greely