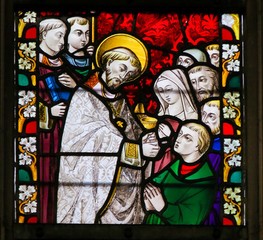 "I am the living bread that came down from heaven; whoever eats this bread will live forever; and the bread that I will give is my Flesh for the life of the world."
- John 6:51
Parishioners who are ill or unable to leave their home are deprived of their rightful and accustomed place in the Eucharistic community. In bringing communion to these parishioners, Communion for the Homebound represents Christ and manifests faith and charity on behalf of the whole community toward those who cannot be present at the Eucharist. For the sick the reception of communion is not only a privilege but also a sign of support and concern shown by the Christian community for its members who are ill.
Having a relationship with the person you visit is a key factor. The minister brings the comfort and concern of Christ into their home. Visits can be made weekly, biweekly or monthly.
Communion for the Homebound is a sister ministry to Caring Hearts.
Staff Liaison: Susan Hankel at 261-4650