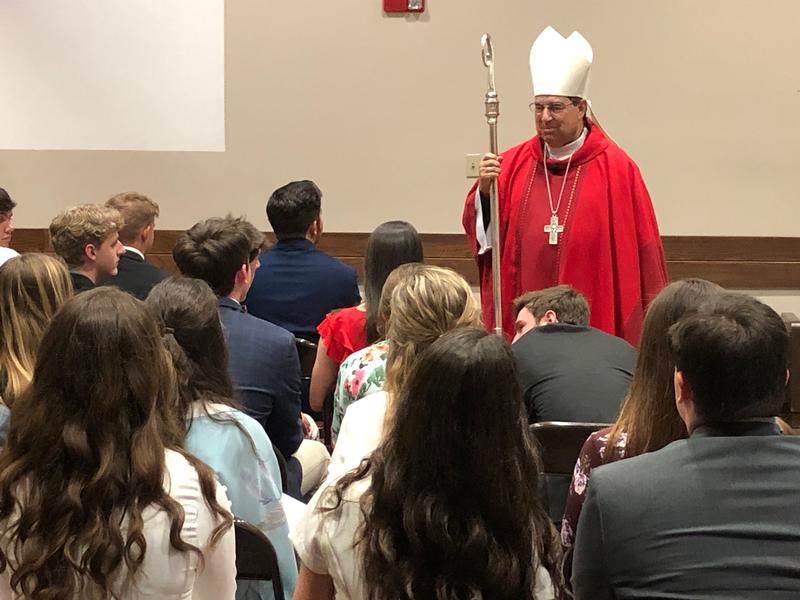 Our vocation in life could be many things, it's not just the priesthood or religious life. Vocations can be our calling to single life, marriage, our career and much more.
In this section we will focus on Vocations to the priesthood, permanent diaconate and religious life. Through prayerful discernment and the calling from God, one can enter into studies to become a priest, deacon, sister or brother in the Catholic Church. This calling is not something that one should take lightly. There are resources within the Diocese for those who are discerning the call to religious life.
Do you have a calling to the religious life? Visit the Diocesan Vocations Website by clicking here or call the parish office to speak to Fr. Mike.
VOCATIONS LUNCHEON
Eighth graders from St. Alphonsus School are invited to Fr. Mikes's house for a home cooked meal during their lunch time. While eating, Fr. Mike engages in a conversation about the priesthood and other vocations that the Catholic Church offers. This ministry is currently on hold due to COVID-19. Contact the School Office for more information.
NATIONAL VOCATION AWARENESS WEEK - nov. 6-12, 2022
As Catholics, we firmly believe that God has a plan for our lives! He calls some to marriage, some to priesthood, and others to religious life. Some remain as generous single people. Fully living our own vocations - and teaching young people how to discern God's call - is a serious duty, but also a joyful one.
Typically the first Sunday in November begins National Vocation Awareness Week. During this week, please pray about how God is calling you to live your vocation more deeply. Encourage the young people in your life - children, grandchildren, students, and friends - to be open if God calls them to priesthood or consecrated life.