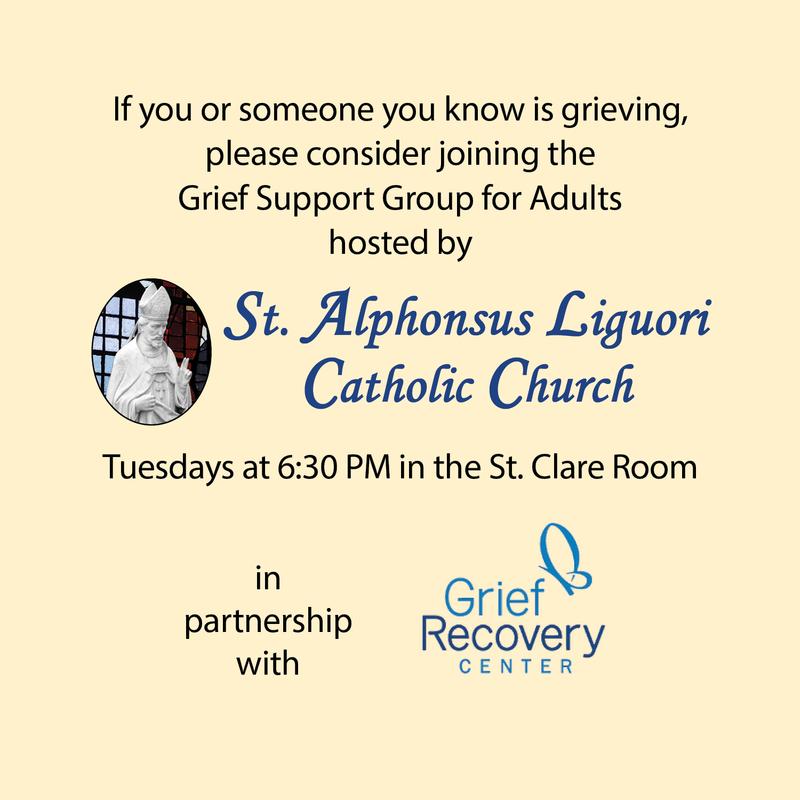 Grief can be a very lonely and isolating experience. You just don't feel like socializing, especially when friends don't understand what you're giong through. It's hard to put on a "happy face" and you feel awkward crying in front of others. Being in the company of others who understand because they are also grieving can offer comfort and hope- you don't have to feel so alone.
Your church community is here for you.
St. Alphonsus Liguori Catholic Church usually hosts a Grief Support Group for Adults on Tuesdays at 6:30 PM in the St. Clare Room in collaboration with the Grief Recovery Center of Baton Rouge. Due to COVID-19, this ministry is currently holding virtual meetings through Zoom. This group is open to the community at large, including but not limited to those who have lost a loved one or are struggling due to other circumstances.
Our Mission: To compassionately assist all those experiencing grief to move beyond the pain of loss, isolation, and loneliness through support, education, and counseling in the process of healing.
In addition, the Grief Recovery Center also offers special groups for grieving children and teenagers, as well as families. The organization can also help set up private counseling if needed. For additional information, visit
https://www.grcbr.org/support-groups
.
If you or someone you know is suffering from grief and would benefit from being with others who are grieving, please call 225-924-6621.
Contact: Glenn Jarreau, 225-287-1295
Staff Liaison: JoAnn Stein, 261-4650