Soul Core is a contemporary new movement that pairs praying the rosary with core strengthening, stretching, and full body exercises. Soul Core is a sensory experience that combines candlelight and music, providing participants the opportunity to nourish body, mind, and soul while contemplating the mysteries and fruits of the rosary.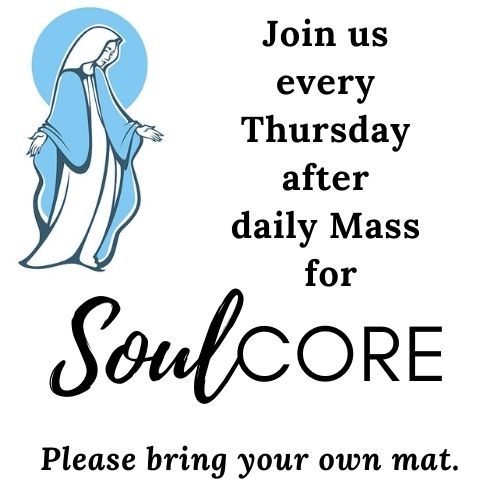 Soul Core is held at St. Alphonsus in the Multi-Purpose Building every Thursday immediately following the 8:30 AM daily Mass. The program usually begins between 9:15-9:30 AM and lasts approximately one hour.
We will follow the program for a different Mystery of the Rosary or the Divine Mercy at each session.
PARTICIPANTS ARE ASKED TO BRING AN EXERCISE MAT.
The movements are generally performed on a mat, but benefits can also be achieved in a chair. Whatever is comfortable for your body.
Staff Liaison: Susan Hankel, 261-4650, susan@alphonsus.org